Co-Founders Brian Halligan and Dharmesh Shah have heard from me on more than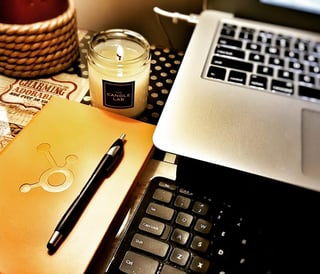 one occasion - thanking them for the strength, wisdom, and fearlessness it has taken them to grow our company to where it is today. Nothing has made me prouder to be a HubSpotter than when I took full advantage of the HubSpot sabbatical. After 5 years of working at HubSpot, I qualified for the gift and was the very first official employee to take it. A year later (to the day), I have finally gotten around to putting into words what I learned from the experience. Although I had plans of a major slideshare presentation and multiple essays...they just never happened. Now, I am happy I waited for a year to pass, because it allowed me to truly recognize and appreciate just how much the sabbatical changed things for me professionally and personally at Hubspot. "What did it REALLY change for me?" the answer is everything. I am limiting myself to writing this post's outline in no more than a half an hour (the details will take longer) but I chose to do so with the goal of getting an immediate gut reaction from myself, as I have been thinking about what to say for the past year. Time to just make it happen...(30 min Pause). I came up with 28 things.
What is the HubSpot Paid Sabbatical and how did it become a policy?
For years, the month-long sabbatical was a largely unspoken, but hinted at benefit for tenured employees of 5 years or more. At the time, anyone using the sabbatical was a VERY rare occurrence since the company was still fairly young itself. When I was approaching my 5-year mark, I wanted to give our finance and management department a heads up that YES, I would LOVE to take advantage of this amazing, legendary benefit without losing my job in the process. One of our finance department heads thought;
"Hmmm...wouldn't it be great if this was a real policy as the company becomes older and more employees reach the 5 year mark?"
"Shouldn't this be available to every employee, and by the way, with cash incentive to make sure they all use it?"

Very quickly he ran it up the food chain, putting it to a vote. Much to our enthusiasm, it won by a landslide with zero resistance. As the first employee to take advantage of this unbelievable benefit - I can't help but feel a little pride in being the inspiration for it to come into existence, for real!

What did I do for an entire month off plus a paid bonus?
My husband and I decided to finally take our Honeymoon and travel the California coast - from San Diego to San Fransicso, for two weeks with a critical week of buffer before and after the trip to get our lives back in order. The goal was to completely detox from stress, electronics, eat as clean as possible, and be active every day.

And now... my 28 findings in order they came to mind:

1. Cell phone notifications are like a bad smoking addiction.
It's time we all admit it! Trying to detox from phone buzzes and emails is as hard as breaking a smoking habit. As my husband and I traveled the countryside, seeing some of the world's most beautiful sites, we would both get these anxious jitters during the first 5 days from not answering the seemingly endless streams of emails and social media notifications. We would try and go 2 hours at a time without looking at our phones and even that was a serious struggle. We would look at each other and say, "Are you reaching for your cigarette?" each time we went for our phones, just to put things into perspective. Unfortunately, I am now back to answering all of the notifications like the detox never happened but I have learned to find small blocks of precious time when I can completely block out the noise to get things done.

2. Choosing and adventure by just using the Hotel Tonight App is amazing.
We started with a general plan for our adventure then began to choose each city based on location and what Hotel Tonight had on special. Traveling in January in the off-season in California is incredible. We were staying in $300-$400/night rooms for $99's with views that literally would take your breath away. Except for one night spent in a hotel recommended by a local, we used Hotel Tonight for every city we stayed in.

3. Taking a month off will increase your sales.
The main reason that people in sales worry about taking time off, over-achievers in particular, is because they are terrified of what could happen if they step away from their jobs. Well, to debunk this and assuage those fears – the month off gave me a rejuvenated energy and clear mind that had my guns-a-blazen. I had my best year of sales yet and even made HubSpot's prestigious president's club. I ended my year at 140% of my number. It can be really hard to step away, but remembering to take care of yourself sometimes will end up helping every facet of your life improve.

4. My HubSpot manager rules.
Brian Signorelli could not have been a better manager for a senior rep taking a sabbatical. I ended up having one of my biggest months in sales that month I was out, (all of my year end deals bled into January) but he was there to make sure all the payment links and necessary follow-ups happened. I didn't completely detach because I didn't want him to be completely on his own (although of course, he could have handled like a champ.) Simply forwarding important emails to him versus answering them myself gave me all the peace of mind I needed to relax. It was empowering knowing that I was able to step away and still make sure my business was taken care of.

5. Your family and or significant other will want to write your CEO a thank you note.
My husband actually asked if he could write Brian Halligan a thank you note for giving him back his wife.

6. California is GINORMOUS
California is HUGE. Taking two weeks basically speeding through the state was overwhelming and absolutely magical. We didn't even hit Tahoe! So much left to see...

7. If a Californian says it's amazing or beautiful, it will blow you away.
Our entire trip was comprised of local recommendations. We would talk to Californian friends and locals and what was fascinating was that all the things we tourists were absolutely amazed by, they would simply "ho hum." On the same token, anytime they were excited about something, be it a restaurant or a view; just know you are in for something that will blow your mind. Californians are spoiled with fresh food, sunshine, equality, beauty and art of all kinds every day.

8. God lives at Big Sur.
On more than one occasion, even the atheist would tell us, if there is a God, he lives at Big Sur. It's true. Nuff said.

9. Getting lost in America is the greatest.
There are parallel universes going on this very second in a cool place in America that you may not know of. Our goal from this trip was to take time every year to see a part of America that we never have, because it's important to appreciate everything this beautiful country has to offer. This year we are going to the Florida Panhandle and Coast all the way to Biloxi Mississippi before the HubSpot President's Cancun trip and we can't wait!

10. Unplugging is a REALLY good idea.
It's amazing, seriously.

11. When the brain is at rest, it gets really creative.
It's amazing the creativity both in business and life pursuits that happen on a sabbatical. Everything becomes super charged and a bit brighter.

12. Staying off the booze brings a lot of clarity.
We opted for clean living for a month and man was it a good idea. That occasional glass of wine to decompress or that holiday cocktail to celebrate will really start to add up in the brain.

13. Immediate Picture Collaging is a really good idea when you are traveling to lots of places.
I used a free picture collage app to track the entire trip. We would freak if we missed a day because the pictures would start backing up and would get out of order!

14. If you are a person with a ton of work energy, you will still need to put your personality to work.
If you are a high-strung type A+ personality, lying on the beach is going to get old very quick. You are going to have to put all of that work energy into something. We put it into picture collaging and dreaming of business ideas.

15. Take a Honeymoon a year after you get married.
Initially we didn't take a honeymoon because we didn't have time after taking a week just for our wedding. I am so happy we waited. We had a year of living together as husband and wife and got to reconnect on the road, celebrating an awesome year together. Really good, unplanned, idea.

16. O.M.G - California Burritos.
Friends. Seriously. The. Burritos. Everywhere...

17. Have a slight plan, but learn to go with the flow, especially if you are a control freak.
For the first time, for two whole weeks, we didn't have a plan. We let the world, locals, and cool Yelp reviews be our guide in lands unknown to us. Volcanoes, beaches, fish tacos, coffee, burritos, new cities, shopping... you name it. We traveled with the wind and we captured all of it on my smart phone.

18. Take a week before and after to get life in order was a REALLY good idea.
Taking a month of is no joke of a transition. It's amazing how much of life tasks get brushed aside when you work hard at any job, especially at HubSpot, a company that has always had a goal of world domination. A week buffer before and after a major trip based sabbatical is exactly what you need to prepare to leave and then get back into the game.

19. Some of my best friends are HubSpotters and HubSpot Partners.
When I "took a break" from HubSpot office / quota and job tasks I definitely didn't take a break from HubSpotters; as they are the number one reason to work at HubSpot. I met an agency partner or two along the way in my travels in some totally epic ways.

20. Seeing old childhood besties is really important to make happen.
One of the most amazing things about Facebook is keeping in touch with those really important people from our past lives. You can watch their children get older, see relationships grow, and follow careers taking flight. To see them in person again is magical. Turns out, a few of my closest and dearest old besties live in California and reconnecting was definitely not only a highlight of the trip, but a highlight of the year. You know who you are! So great to see you and I am looking forward to more fun memoreis in the near future!

21. Eating slow is a good idea.
It's amazing how fun long, slow meals can be when you're not rushing to meetings. It's nice to giggle, smile, and just take slow bites of food instead of shoveling down at your desk. Especially with California meals that can always be made healthy and delicious with no question.

22. Wear comfortable shoes and pack light, you can do laundry on the trip.
I actually purchased a really comfortable pair of tennis shoes when I arrived in California and thought I would switch to "cooler" shoes. It didn't happen. We walked and walked and explored and walked some more. I soon forgot to care whether I was the coolest kid walking down the street or not, and I just went comfortable so I wasn't limiting myself from missing something extraordinary. We ended up doing laundry one week in at an awesome Best Western in Santa Barbara so we packed for 1 week vs. 2. Pretty great. It's easier to lug bags in and out of cars when you aren't carrying so much. Get rid of the baggage!

23. Setting life goals for health are imperative; your body will break down if you don't.
Hit your 30's and you know - you are no longer in your twenties. I am sure I will say the same thing at the 40, 50, and 60-year mark. If you live a fast past, high-test work life, eventually your body will break down even if your mind doesn't. The wine doesn't wear off as fast, sleep becomes more and more important, and your doctor might even tell you things aren't as healthy as you think. Take care of yourself. California put both of us back on track because we made the time for it, thanks to a pretty lengthy out of office email our inboxes and no interruptions.

24. Forwarding emails to your manager (for me) was more relaxing then not checking at all.
Again, Brian Signorelli rocked during my sabbatical. Grateful, clearly that this came up again in my subconscious mind!

25. If you are driving the entire coast, spend a little more and get the upgrade.
Get the bigger car. Get sold at the rental counter. You will need the extra space for comfort and all of the loot that you will end up picking along the way.

26. Take the Sabbatical, don't wait. HubSpot will be there when you get back.
It's true. We are all not as important as we think we are. The world will continue. Your partners will find the answers. Your customers will contact support or your manager if they need to. You will be greatly missed for sure, that's why they hire you after all - there is a job you fill, but the world WILL go on. Promise.

27. I will always promise to allow myself to take a vacation.
No more guilt. Taking a REAL vacation and allowing myself to do so without feeling guilty actually will make my company happier and more successful because I will be. It's taken a long time for me to accept that and I am still a work in progress. Admittedly, I did still work on my leave, both personally and a teeny bit of HubSpot, but those are my businesses. To leave them completely high and dry would have made me uncomfortable, but I did manage to let go of some control and let my set up teams take the reins. Seeing orders come in as a commission sales rep is never stressful, ever. Especially when your quota is at zero.

28. Staying in a different hotel room every night doesn't get old or annoying.
This was something I definitely thought would get old. Not only did it not get old, but it was exciting every night to climb into a new, luxury, hotel. It was so unexpectedly awesome. There were only two hotels we stayed at twice. One was for convenience (Santa Barbara Best Western) and one because it was absolutely one of the most incredible experiences ever in Palm Springs. (Two Sparrow's Hotel (pics included below).
And Now... My HubSpot Sabbatical In Picture Collage Form: